Hōryuji Temple 法隆寺 (Nara)
Built in 607, Nara prefecture's Hōryuji Temple is the world's oldest wooden temple. In 1993, it was the first place in Japan to be added to the UNESCO World Heritage List. Several of the statues and buildings here have been selected as national treasures, and you can feel the temple's long history upon entering the grounds.
Hōryuji Temple is known for housing countless Buddhist statues. The Kuse Kanon Statue is usually not available to the public, but every spring (4/11 – 5/18) and autumn (10/22 – 11/23) it is temporarily opened.
They also offer English free guides at the tourist office, "Horyuji Temple i Center".
2. Rokuonji Temple 鹿苑寺 (Kyōto)
This temple was built in 1397, in Kyōto. Also known as Kinkakuji Temple 金閣寺, it was built in the image of gokurakujōdo 極楽浄土 (heaven).
The gold coloration is made by lacquering actual sheets of gold to the building.
It also has a pond known as Kyōko-chi 鏡湖池, which beautifully reflects the image of the Kinkakuji Temple. This feature makes for a world-class photo opportunity, so Kinkakuji should be on your Instagram bucket list.
Around the pond is a garden that stretches over 92,400 square meters. It is a great place to enjoy a stroll. The impression one receives from Rokuonji Temple changes a lot depending on the season. This is especially true in the fall, with the coloration of the foliage, and in the winter, when everything is white.
3. Tōdaiji Temple 東大寺 (Nara)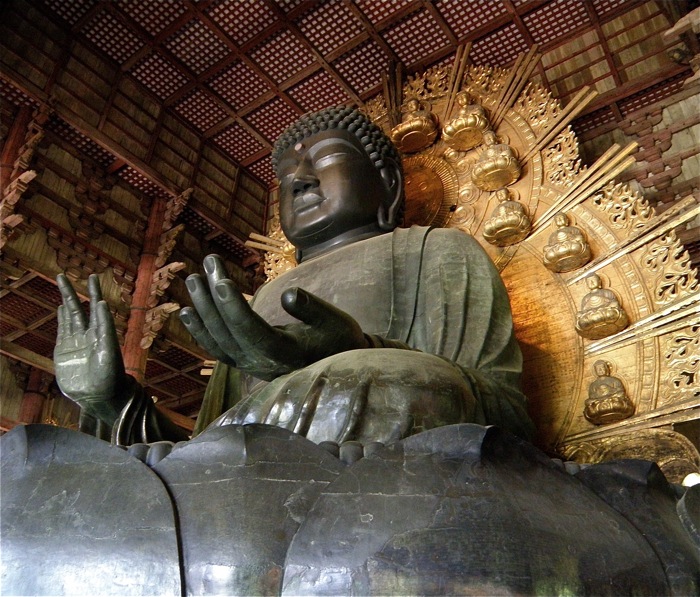 This temple is home to Nara's great Buddha statue, the Rashana Buddha (Daibutsu 大仏). The statue looms over onlookers at a height of 14.98 meters. It was built over 9 years starting in 743, and is said that it took the work of 2,600,000 people in total to construct.
The great hall where the Great Buddha statue is kept is the the largest wooden structure in Japan. There is a place inside where one of the pillars has a hole in it, which is known as "the great Buddha's nostril". They say that if you pass through it you will achieve happiness, but it is very small, so don't expect an easy path to enlightenment.
Also nearby is the Tōdaiji Temple Museum, where you can see several national treasures and important cultural properties. If you ever visit the temple, we recommend you have a look.
4.Kiyomizudera Temple 清水寺 (Kyoto)
Kiyomizu Temple was built in 778, is the oldest temple in Kyoto, after 1994 was inscribed on the World Heritage List. In front of the stage is vacant Japanese national treasures, surrounded by green trees and spring cherry blossoms.
welcome to download tripla!