Akihabara (秋葉原), also called Akiba after a former local Shrine, is a district in central Tokyo that is famous for its many electronics shops. In more recent years, Akihabara has gained recognition as the center of Japan's otaku (diehard fan) culture, and many shops and establishments devoted to anime and manga are now dispersed among the electronic stores in the district. On Sundays, Chuo Dori, the main street through the district, is closed to car traffic from 13:00 to 18:00 (until 17:00 from October through March).
Akihabara has been undergoing major redevelopment over the years, including the renovation and expansion of Akihabara Station and the construction of new buildings in its proximity. Among these newly opened buildings were a huge Yodobashi electrinics store and the Akihabara Crossfield, a business complex with the aim of promoting Akihabara as a center for global electronics technology and trade.
---
Electronics
Hundreds of electronics shops, ranging from tiny one man stalls specializing in a particular electronic component to large electronics retailers, line the main Chuo Dori street and the crowded side streets around Akihabara. They offer everything from the newest computers, cameras, televisions, mobile phones, electronics parts and home appliances to second-hand goods and electronic junk.
A few chain stores such as Sofmap and Laox each operate multiple specialized branches along the main roads, while small independent shops can be found in the side streets. The only mega sized store is the Yodobashi Camera complex on the east side of the electronics retailers.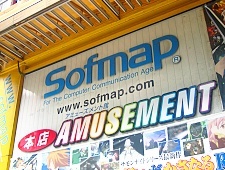 Sofmap
Hours: 11:00 to 21:00 (some branches have different hours)
Closed: No closing days
Sofmap operates 12 shops around Akihabara. In addition to their main store, they have many specialty branches that feature a type of item such as Apple products, CDs or games, as well as a number of outlets for used products such as used computers, cameras, CDs and software.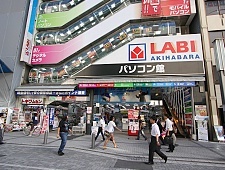 Yamada Denki
Hours: 10:00 to 22:00
Closed: No closing days
Yamada Denki operates a "LABI" store just across the street from the Akihabara Electric Town exit of JR Akihabara Station. It specializes in personal computers, pc accessories and household electronics.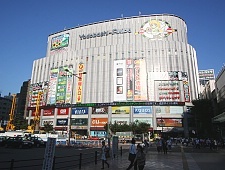 Yodobashi Camera
Hours: 9:30 to 22:00
Restaurants: 11:00 to 23:00
Closed: No closing days
The Shinjuku based discount electronic store giant Yodobashi Camera opened its huge Akihabara branch in September 2005. Unlike most other electronic shops, it is located on the east side of Akihabara Station. This branch offers one stop shopping for computers, games, watches and cameras, and sells tax free and international models.
welcome to download tripla here