The Robot Restaurant Concept
As far as efforts to help Japan's recovery post-earthquake, a Robot themed cabaret-restaurant in a Tokyo entertainment district is pretty far fetched in conception, but that is one of the reasons the idea supposedly came into fruition.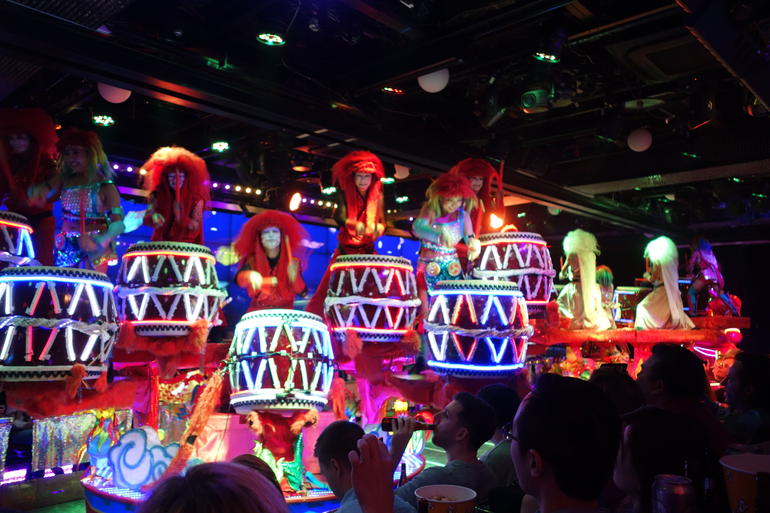 The Show
Around 12,000 bulbs line the walls of the waiting room, giving a glaring taste of what is to come and leading you through and down to the show area. There you'll sit and just take it all in. The show is split into four sections, each having developed in scale and tightness (responding to feedback – it is worth going again if you've been already) and each something that reading about may potentially spoil – look away now if you think that's true!

There are more than 200 of the seemingly permanently colorful 44-inch monitors that surround the stage area, including on the ceiling. We'd have no complaints about the somehow random aspect of what eventually comes next every time we feel like you've had enough shocks, but self-produced movies with the girls dancing in the desert or setting the scene for 'battle' do help pass the time…
It should be easy to write about the show at the Robot Restaurant. There are robots, there are girls, there are taiko drums, there is a giant mechanical armadillo (we think that's what it was!) that does battle with a Kung-fu panda lookalike and there are some perhaps Daft Punk-inspired figures (we do wonder if any royalties changed hands) who skate around the place on Segways dodging lasers and pumping up the crowd with their glow sticks.
---
Information:
Address
Shinjuku Robot Bldg. B2F, 1-7-1 Kabuki-cho, Shinjuku-ku
(Postal code:160-0021)
Average budget
8,000yen- /1,000 yen meals charged separately (reservations required the day before)
Hours
15:30~23:30 /Reservation Center (9:00–22:00)
Closes
None (Show times may change. Check the website before arrival.)
URL

http://www.shinjuku-robot.com/pc/

TEL
+81 (0)3-3200-5500
E-mail
https://www.shinjuku-robot.com/reserve/reserve.php
Languages

Menu (non-Japanese): English
Languages spoken by staff (non-Japanese): English

Credit cards
Visa, JCB, Master, AMEX
---
welcome to download tripla!